(English text below) Hallo, liebe Mit-Folkies!
Wie versprochen folgt der erste Eintrag zu der St. Patrick's Day Tour von Johannes "Joe" Single und mir.
Damit wir noch ein wenig Zeit zum Proben hatten, bin ich bereits Mittwoch angereist. Die Probezeit war auch bitter nötig, weil Joe sich dummerweise eine Kehlkopfentzündung zugezogen hat, und wir das Programm deshalb umschmeißen mussten. Normalerweise spielen wir bei unseren Konzerten in der ersten Hälfte einige Solostücke, was diesmal nicht machbar ist. Wir haben aber aus der Not eine Tugend gemacht und in kürzester Zeit ein Duoprogramm zusammengestellt, sodass wir jetzt die kompletten Konzertabende gemeinsam bestreiten. Solche Herausforderungen sind nicht ungewöhnlich, wenn man nicht allzu häufig auf Tour ist. Bei unserer letzten Konzertreise musste ich ein wenig kürzer treten, da ich Überlastungserscheinungen in der rechten Hand hatte.
Nachdem wir am ersten Abend außer Proben und Grillen nichts vorhatten, haben wir den Abend gemütlich mit etwas Single Malt ausklingen lassen. (Johannes wurde mal gefragt, wo es in Nürtingen die beste Auswahl an schottischen Whiskys gebe und er antwortete gelassen: "Bei mir!") Folglich sind wir am nächsten Morgen erst spät aus den Federn gekrochen. Joe hat uns zum Frühstück erstmal schwäbische Linsen gemacht, bevor wir noch ein wenig weitergeprobt haben.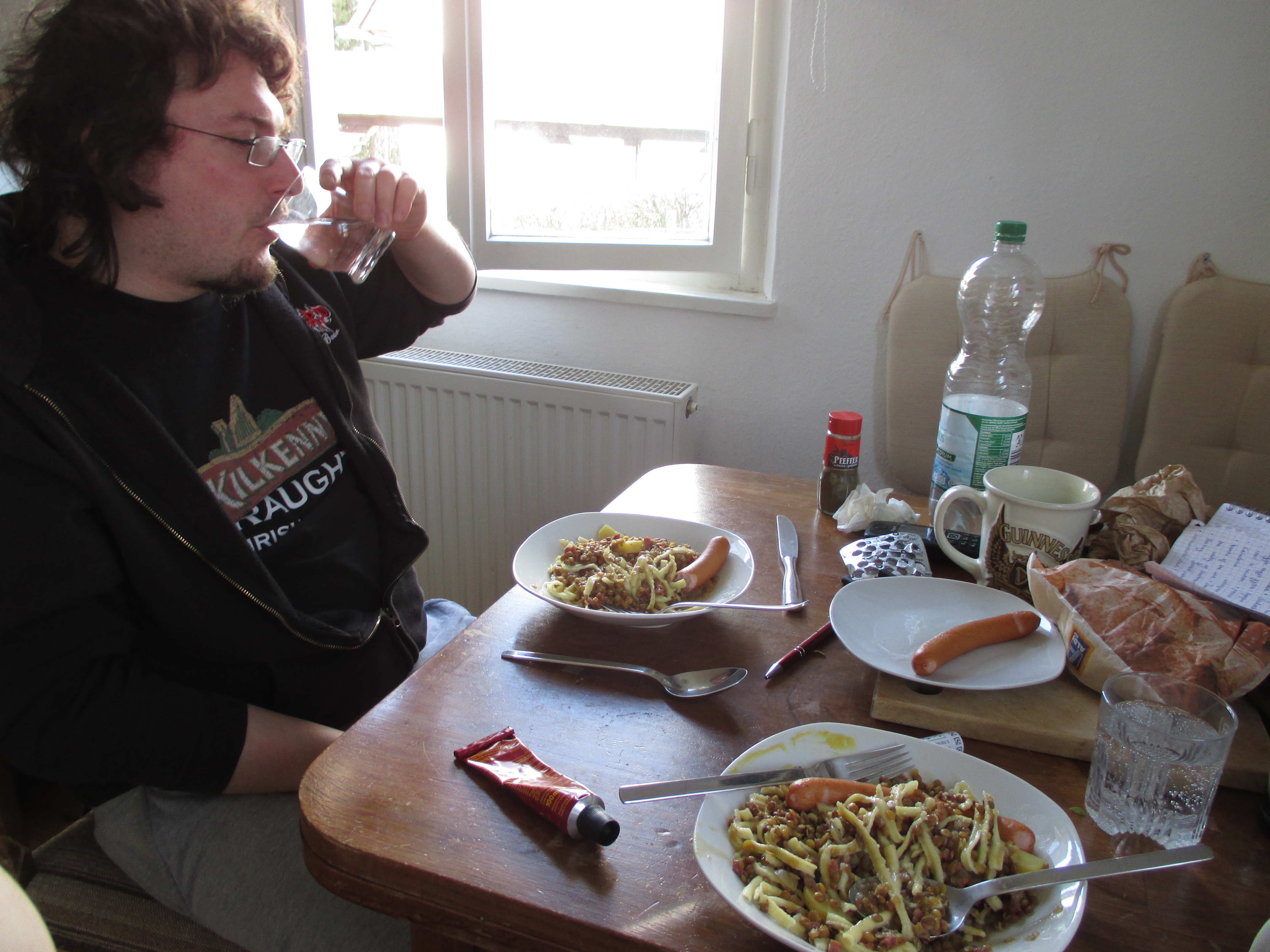 Am Abend stand der erste Gig in der Zehntscheuer in Deizisau an, den wir gut über die Bühne gebracht haben.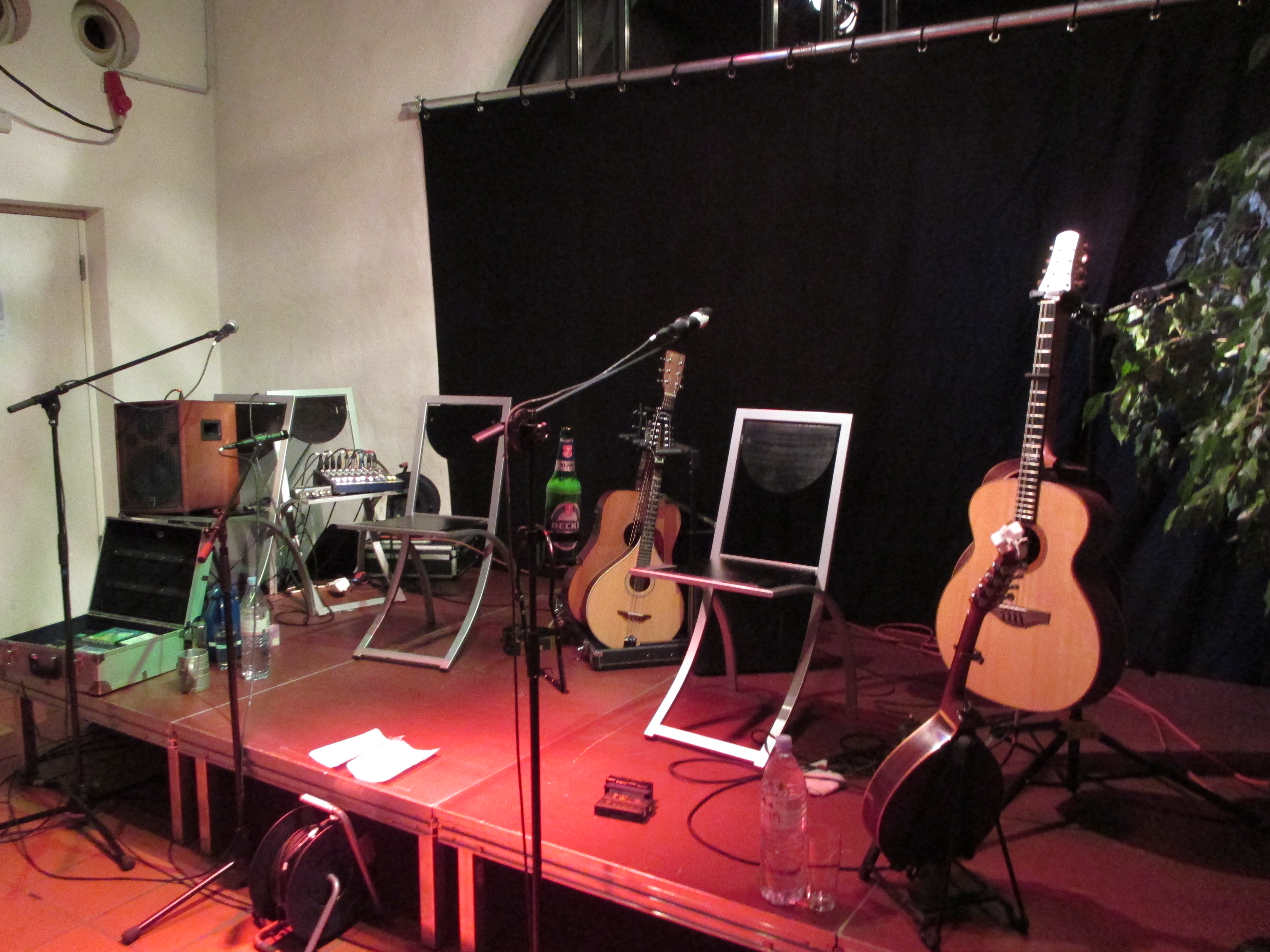 Die Zehntscheuer ist ein Mehr-Generationen-Haus, in dem diverse Veranstaltungen stattfinden. Die hohen Decken (nicht im Bild) sind zwar eindrucksvoll, aber auch Schuld an der suboptimalen Akkustik! Die Premiere lief dennoch sehr gut und wir freuen uns nun auf unseren Auftritt in der Seegrasspinnerei in Nürtingen!
Bald mehr!
Grüne Grüße,
Sebastian
Hello, fellow folkies!
As promised, now follow some stories from the road. I am currently doing a little St. Patrick's Day tour of southern Germany with Johannes "Joe" Single of The McMontos fame.
I arrived Wednesday in order to have some time to rehearse which was of grave importance as Joe has got an infection of the larynx and cannot sing any songs. Thus we had to abandon our usual set-structure of playing a number of solos and doing the other half as a duo, and extend the latter to a full concert programme. Luckily, Johannes is also a brilliant instrumentalist and thus we are able to play some tunes and re-arrange some of my solo stuff. These trials and tribulations are not that unusual when you are not on tour on a regular basis. Last year I had problems with my right hand which Joe had to compensate. Nevertheless, rehearsal went well and as there was nothing else to do, except having a barbecue, we had a quiet night with a few single malts. (Joe was asked once where you could get the most extensive collection of whisky in Nürtingen and, beingt content with himself, he said: "At my place!") The late night was the reason for the late breakfast for which Joe cooked a traditional Swabian dish consisting of lentils, bacon and vinegar. Breakfast for champions! (picture above)
Our first gig went well and we were delighted to play in 'Ye Olde Tithe Barne', a place that is used for various events. Even though the high ceiling is pretty impressive, it also causes suboptimal accoustics when people are talking. Nevertheless, everything went well and we are now looking forward to our second gig at the Seegrasspinnerei (seaweed spinning mill) tonight. More from me soon!
Green Greetings,
Sebastian