Hallo, liebe Mit-Folkies!
Hoffentlich haben einige von euch die Folkival-Sondersendung im Schottenradio gehört, in der Jochen Lung-Müller, Johannes Single und ich mit Basil Wolfrhine über das bald anstehende Folkival gesprochen haben. Natürlich nutzten wir die Gelegenheit auch für den einen oder anderen Song und das eine oder ander Späßche!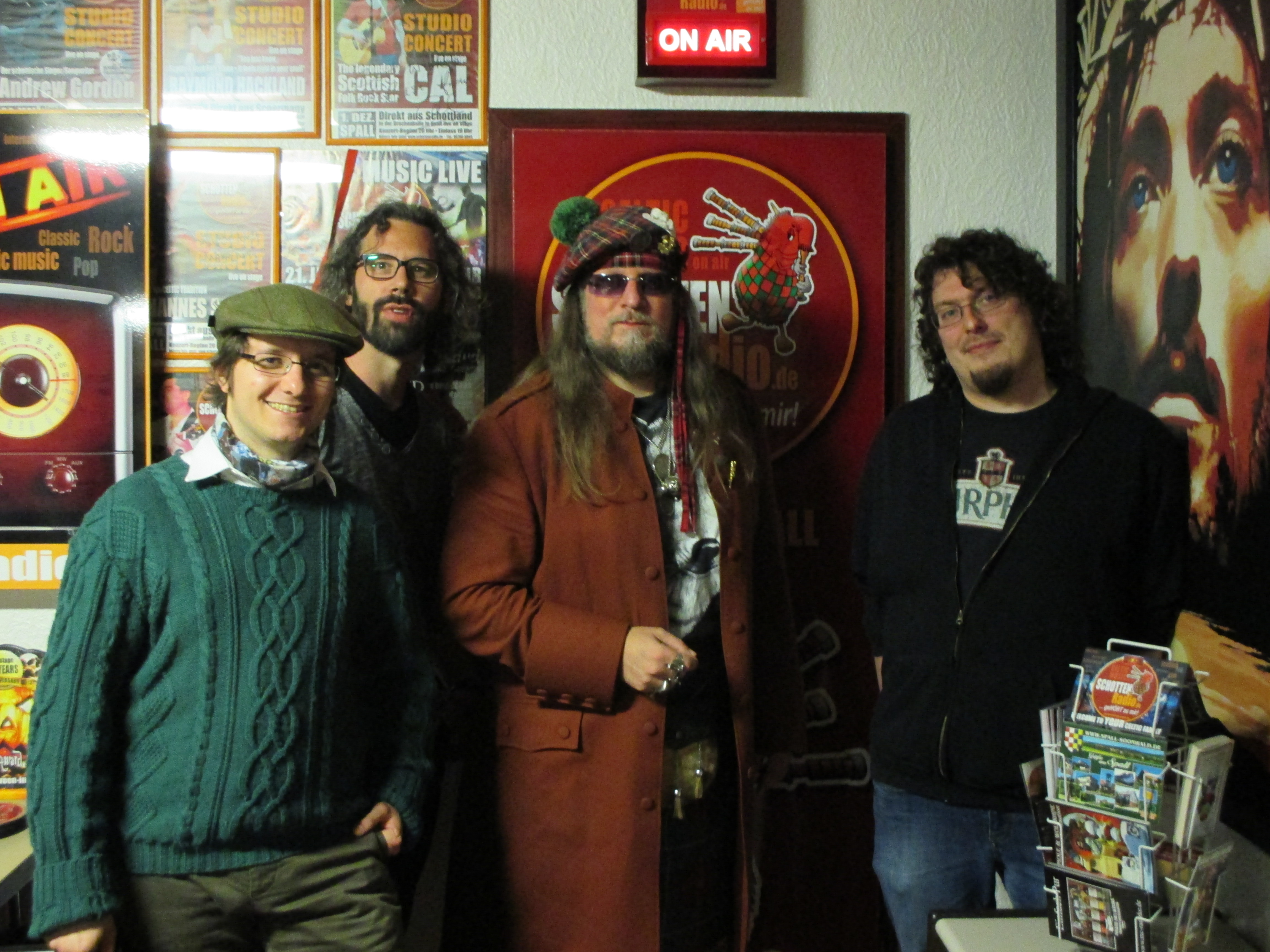 Jochen und Joe waren so nett, mich in Bad Kreuznach vom Bahnhof abzuholen, denn nach Spall kommt man kaum mit öffentlichen Verkehrsmitteln. Nach einer kurzen Fahrt durch die idyllische pfälzische Landschaft erreichten wir Spall und ich war doch sehr überrascht, in diesem beschaulichen Örtchen (sprich kleinen Kaff) eine so renommierte Radiostation anfinden zu können. Das erste was mir auffiel, als wir den Hof des Hauses Wolfrhine (oder, wie ich es liebevoll nenne: Castle Wolfrhinestein) betraten, waren die atemberaubenden Wandmalereien, die das komplette Gebäude zierten -- man merkt direkt, dass es sich hier um ein Refugium der schönen Künste handelt. Das zweite das mir auffiel war die schiere Menge an Hunden, die im Hof herumtollten und -lagen. Normalerweise hätte ich bei Basils Auftreten erwartet, dass uns majestätische Wolfshunde begrüßen, stattdessen begrüßten uns einige Möpse deren Belllaute ungeachtet ihrer Mühe wenig bedrohlicher klangen als eine Quietscheente. Mein lieber Freund Danjal Waziri ist großer Mops-Fan und dank seiner Überzeugungsarbeit kann ich diesen ulkigen Kerlchen inzwischen auch einiges abgewinnen.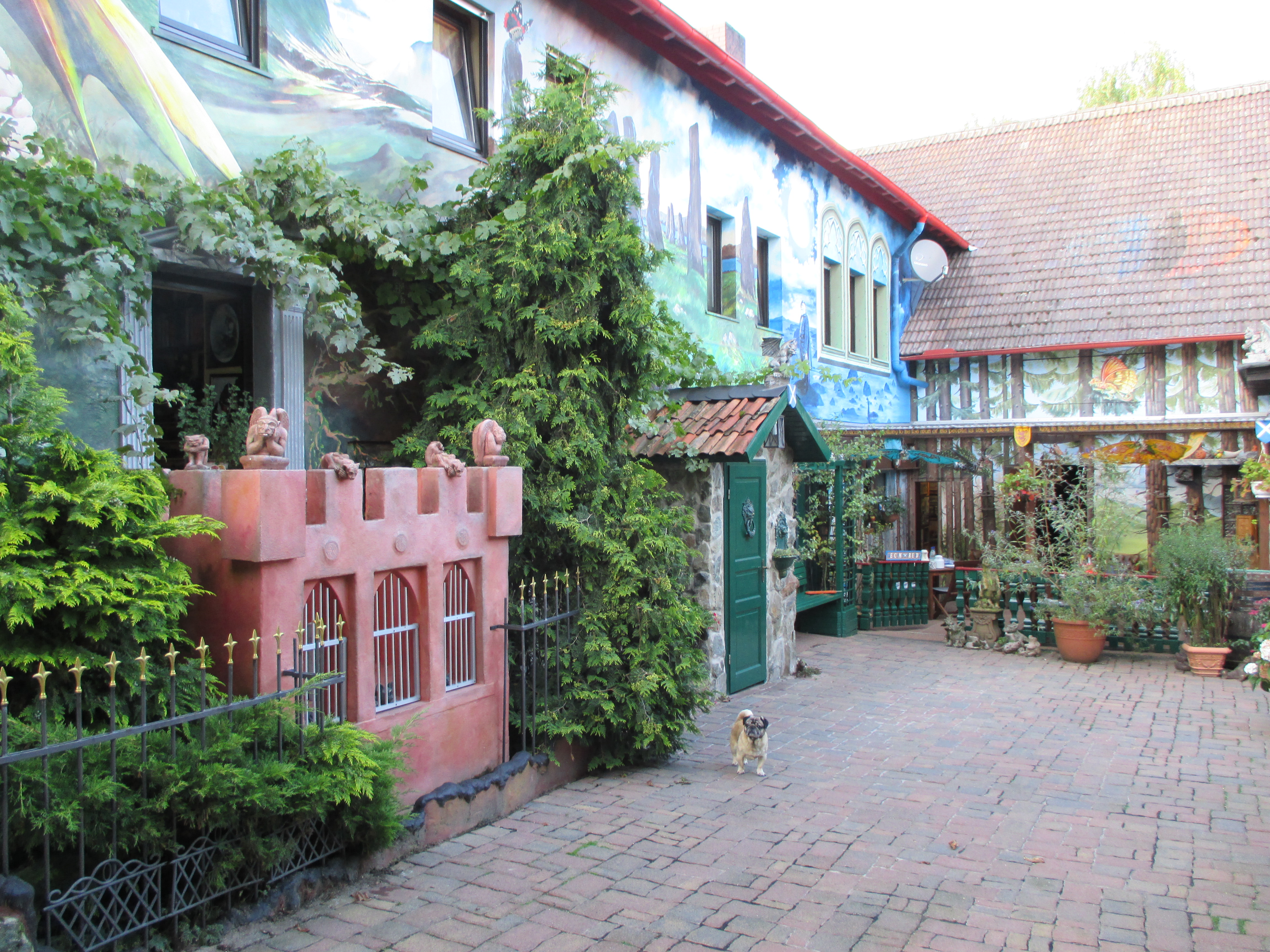 (Im Bild ist leider nur einer der Möpse zu sehen, denn als ich es geschossen habe, waren die restlichen Exemplare über ganz Castle Wolfrhinestein verteilt.)
Nachdem wir von Basil und seiner Familie begrüßt wurden, unterhielten wir uns darüber, wie die Show am Abend ablaufen würde. Für mich war es zwar nicht das erste mal, dass ich in einer Radioshow aufgetreten bin, aber bei solchen Sachen hat ja jeder seinen eigenen Ablauf. Da Johannes und Basil die Gelegenheit nutzten, um ein wenig über das Folkival zu reden, hatten Jochen und ich Zeit, einige seiner Stücke anzuspielen und zu schauen, ob wir eventuell spontan etwas in der Sendung spielen konnten. Wie sich herausstellte ist Jochen ein hervorragender Songwriter, Sänger und Gitarrist und es war eine echte Freude bei seinen Songs "The Mermaid" und "It's not bad to be alive" mitzuspielen. Wir haben uns vorgenommen, dies am Freitag des Folkivals und der Accoustic Session Night am Donnerstag zu wiederholen.
Die Show selbst verlief sehr gut, sieht man mal von den Serverproblemen zu Beginn ab...Basil versicherte uns, so ein Problem sei erst dreimal in der Geschichte des Schottenradios aufgetreten (den Abend der Liveshow mit inbegriffen). Nachdem die technischen Probleme gelöst waren, plauderten wir ungezwungen über unsere jeweiligen Projekte und das Folkival, spielten einige Lieder live und tranken einen Whisky (mag sein, dass das draußen an den Empfangsgeräten nach mehr klang, aber es war tatsächlich nur der eine...und ein halber). Ich weiß nicht, wie ihr es empfunden habt, aber wir hatten jede Menge Spaß im Studio. Den restlichen Abend verbrachten wir damit, im hauseigenen Pub der Wolfrhines einige kühle Biere zu zischen und uns angeregt zu unterhalten.
Johannes und Jochen mussten leider sehr früh am nächsten Tag aufbrechen, aber Gabi und Basil Wolfrhine meinten, dass sie mich schon irgendwie an einen Bahnhof bringen würden. Bei einigen Tassen Kaffee plauderten wir, ausgeschlafen, noch viel über Gott und die Welt. Die Wolfrhines sind ein sehr sympathischer Menschenschlag und entpuppten sich außerdem als anregende Gesprächspartner -- wir sprachen unter Anderem über die schottische Unabhängigkeit, über Politik im Radio und natürlich auch über die Möglichkeiten einer zukünftigen Zusammenarbeit! Ich verrate nur so viel: das wird nicht die letzte Liveshow im Schottenradio gewesen sein, bei der ihr mich hören konntet. ;) Später nahm mich die Fotografin des Schottenradios, Jenny, mit nach Wiesbaden, was für mich natürlich ein Glücksfall war, denn so war ich deutlich schneller bei meiner Frau, als ich gedacht hatte. An dieser Stelle noch einmal vielen Dank an den Wolfrhine-Clan (Gabi, Tina und Basil) für die herzliche Gastfreundschaft und danke an Jenny für die tollen Fotosessions und das Mitnehmen nach Wiesbaden! Wenn ihr mal in der Gegend um Spall seit, solltet ihr Basils Tartan-Museum und seinem Pub einen Besuch abstatten...es lohnt sich!
Ich hoffe, ich sehe viele von euch beim Folkival!
Grüne Grüße,
euer Sebastian Barwinek
Dear fellow folkies,
I hope many of you listened to the radio-special on Basil Wolfrhine's Schottenradio that Johannes Single, Jochen Lung-Müller and me did to promote the upcoming Folkival festival in Nürtingen. Apart from talking about the festival we also did a few songs in the studio and had the occasional laugh! ;)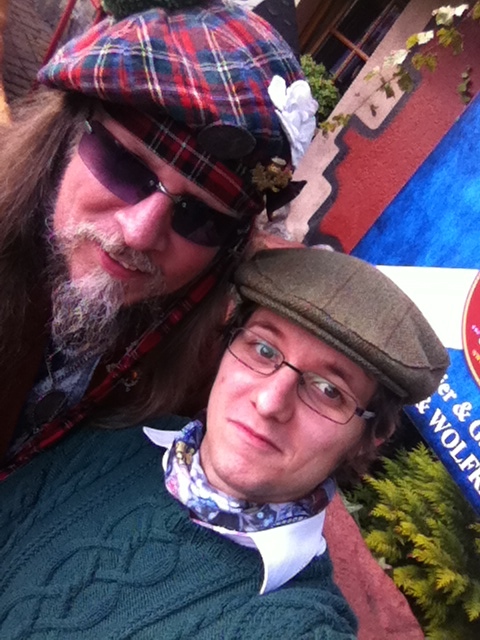 (A selfie of Basil Wolfrhine and me.)
After Joe and Jochen had picked me up at the railway station in Bad Kreuznach we drove to the small village Spall (it used to be a one-horse-town but apparently that horse got sick and died some years ago...), where Basil's studio is situated. I was surprised to find a radio station of such renown in so small a village, but it certainly added to the atmosphere of the place. Speaking of which, I was positively stunned to see Basil's house (or Castle Wolfrhinestein as I think of it, lovingly) for the first time; the beauty of the wall paintings and all the details that are built in the decoration was indeed breathtaking and made clear that this was a refuge for various artists. They even had their own small batallion of guard dogs. Judging from Basil's demeanour I would have thought that if he had any pets they would be majestic wolf-hounds or such-like. Instead, six pugs greeted us with growls that sounded about as menacing as a rubber-duck on helium. My dear friend Danjal Waziri is a huge fan of pugs and he has me insofar converted as I now quite like these quaint little fellows.
After a few cups of coffee and some delicious vegetarian sandwiches, we talked about the show and what we would do in it. Although this was'nt the first radio show I played on, I was glad for the 'run-through' as everybody does these things a bit differently. Johannes and Basil had to discuss some details of the Folkival and thus Jochen and me had time to try out some of his material to play on the show. Jochen turned out to be a brilliant songrwiter, singer and guitarist and it was a pleasure to play his songs "The Mermaid" and "It's not bad to be alive" with him live in the studio. We decided to play these songs again at the Thursday and Friday evening at the Folkival festival, to which I am very much looking forward. The show itself went really well I thought, despite the technical problems we had at the beginning. Apparently there was a problem with the server and thus the audio was not as good as it usually is on the shows, but Basil reassured us that this was only the third time in the history of the radio that they had any problems on the live-shows. We did not let that spoil our evening and after Basil quickly resolved the issues we chatted away and played a few songs, as well as drinking a very good whisky (it might have sounded like more than one for the listeners but it was just the one...and a half). After the show we spent the rest of the evening in Basil's own pub, having another dram and talking till late in the night.
As Jochen and Joe had to leave early in the morning I was glad that Gabi and Basil Wolfrhine said that they would get me to a train station somehow, enabling me to have a lie in. As we merrily chatted away during our breakfast it became apparent once more what great company the Wolfrhine clan is! We talked about loads of topics including Scottish independence, politics on radio shows and, of course, about possible future collaborations. Let it suffice to say that this will not be the last time you will have had the possibility to hear me on Schottenradio! ;) Later that day Jenny who does the photography for Schottenradio gave me a lift to Wiesbaden which is a lot nearer to our place than where Joe and Jochen would have dropped me off. Thus I was back home with my wife earlier than expected which was a nice bonus to a perfect day. Thanks again to the Wolfrhine-clan for their heartfelt hospitality and to Jochen and Joe for the great music! Thanks also to Jenny for the great photo-session and, again, for the lift! If you ever happen to be in the are of Spall you should consider to pay a visit to Basil's tartan museum and pub...it sure is worth your time!
I hope to see you someday soon!
Green greetings,
Sebastian Barwinek